Okay guys.. the moment is here. Today, I am sharing with you the recipe that I love most. The one that I constantly get asked about. The one that I make multiple times per week. The one that is SO. FREAKING. DELICIOUS. Are you ready for it?? 5 Minute Butternut Squash "Cheese" Sauce!!!!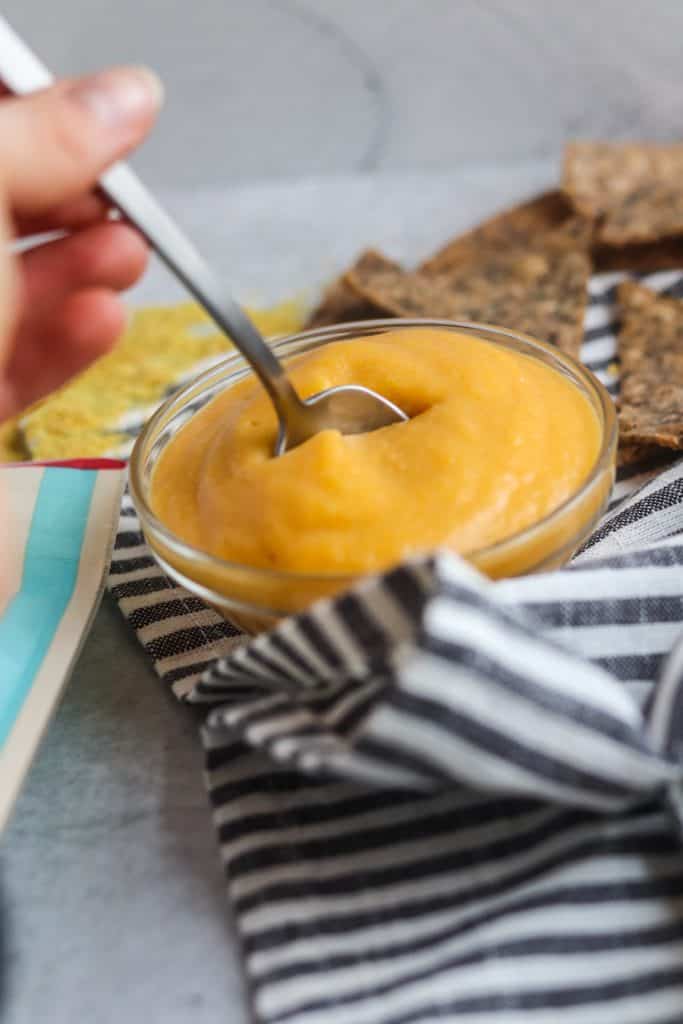 I know it totally sounds extreme to hype-up a sauce THAT much, but it's totally not. This is quite possible the most versatile recipe out there. You can use it for:
Mac N cheese (or any pasta!)
Queso
Cheesy rice
On top of veggies
Pizza sauce
etc. etc. 
This stuff is amazing. And, let's talk about the fact that it only takes FIVE MINUTES to make. Can I get a "HECK YES!!" ?!?
Now that we've established that it's friggin' delicious, let's chat about the nutrition side of this because there are definitely some things that I love about this in that category too.  I am a dietitian after all.  Butternut squash is a great source of:
Vitamin A (can help with healthy skin and hair growth- ummm, yes please)
Fiber (helps to keep you full and stabilize blood sugar
Potassium (adequate intake associated with reduced risk of death from stoke and cardiovascular disease)
The butternut squash gives you a rich, creamy flavor, and the 'cheesy' taste comes from nutritional yeast. That's right- this recipe is DAIRY FREE and VEGAN. So, all you lactose-intolerance people out there- rejoice! Nutritional yeast is a pantry staple for me for a few reasons:
Again, it's friggin' delicious
Provides loads of B-Vitamins (helps with healthy cell metabolism, memory, mood, digestive systems, and hair, skin and nails)
Has 3g of protein per tbsp
Less sodium that parmesan cheese- by 750%… seriously.
So, basically, if you eat this sauce you'll have the best looking hair, skin and nails. HAHA! I'm totally kidding. But it kinda sounds that way, huh?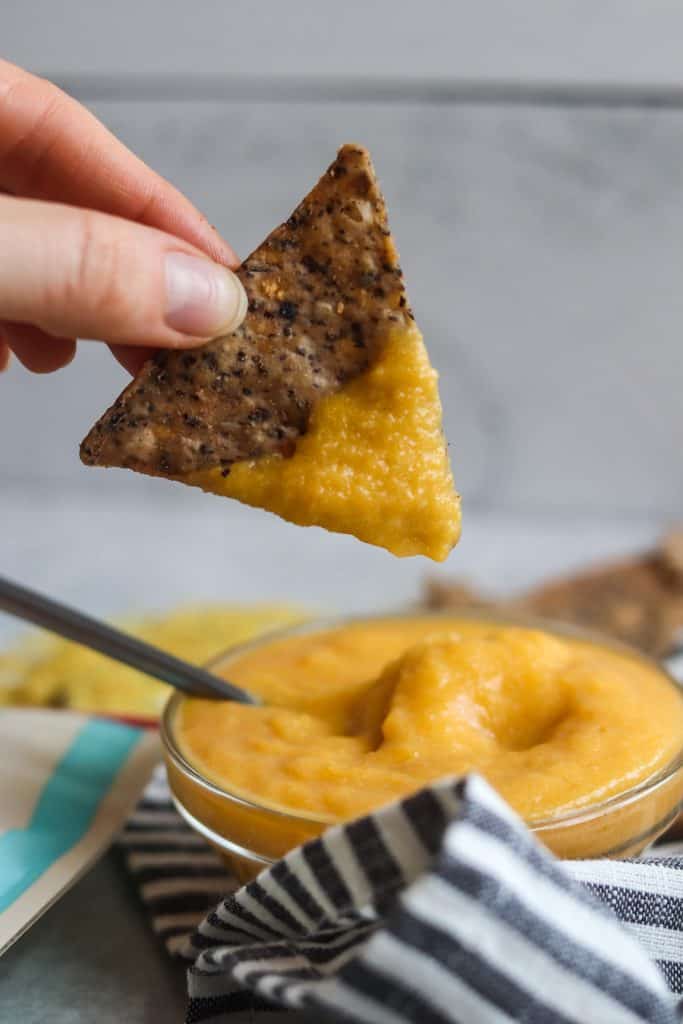 I think that by far my favorite way to eat this (besides with a spoon) is as butternut squash mac n cheese. I've actually served this to dinner guests multiple times (without telling them it was dairy free and vegan) and they had not the slightest clue- but LOVED it! Now THAT is what I consider a win. 
You can totally make this recipe in a larger batch (since this one makes about 2 servings) and keep it in the fridge to have on-hand for the week. If you do this you may need to add an additional splash of milk when you go to re-heat it to get it nice and saucy. 
Give this recipe a go and let me know how you eat it by leaving a comment!!! Can't wait to hear which way YOU like best!!
5 Minute Butternut Squash "Cheese" Sauce
Serves:
2 servings (~1 cup)
This vegan butternut squash cheese sauce takes only FIVE minutes to make and can be added to ALL of the things!
Ingredients
1 cup butternut squash, diced
¼ cup almond milk
1 tbsp nutritional yeast
½ tsp onion powder
½ tsp garlic powder
⅛ tsp salt
Instructions
Place diced squash in a microwaved safe bowl and fill with water. Microwave for 4 minutes.
Drain squash and add it to a food processor.
Add remaining ingredients and process until smooth.
Enjoy!!
Notes
I used unsweetened almond milk
You may add more milk to reach your desired thickness
Nutrition Information
Calories:
48
Fat:
0.4
Carbohydrates:
10
Protein:
2
Don't forget to pin the recipe for later!