Hi, my name is Colleen, and I have an addiction. Seriously though guys, I HAVE an addiction. No, I am not attending weekly anonymous meetings, it's a little bit of a different addiction. What is it? I'm addicted to nutritional yeast.
Never heard of it? Or maybe you have but aren't really sure exactally what it is? That's the camp that I was in for a long time. Finally, I was wandering the aisle of Trader Joe's (as I often do, it's casual…), saw a yellow bag of year and plopped that sucker into my basket. I usually don't buy things that I don't have a plan for, I'm totally a "stick to the list" kinda gal, but that day I did. The result? SO many delicious and nutritious dishes.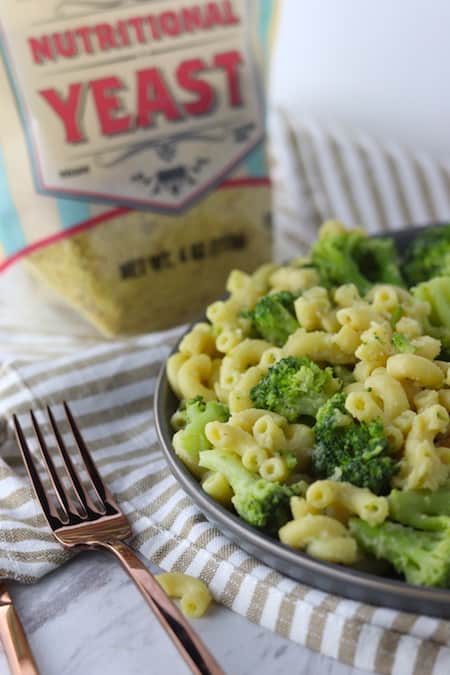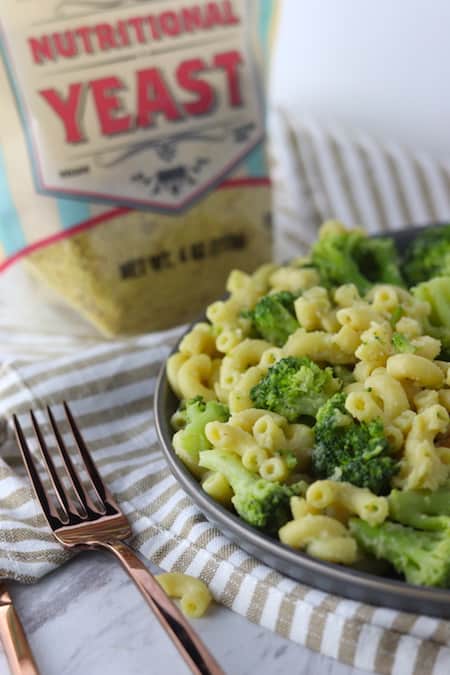 Let's get to learning about this ingredient, shall we? Here are a few facts about nutritional yeast:
It's a "deactivated" yeast, meaning it's been heated and dried
Provides LOADS of B vitamins, which are helpful for cell metabolism, memory, mood, digestive system, and the oh-so popular glowing hair, skin and nails (Sign me up!)
Vegan, gluten free, and kosher
3g protein per 1 tbsp serving (20 calories)
Only 10mg sodium per serving, as opposed to 75mg per serving of parmesan cheese
The flavor of nutritional yeast is "cheesy" and slightly nutty. Some common uses for it are:
In place of parmesan cheese on pasta
Sprinkled on popcorn
Mixed in rice or quinoa
As a salad topping
Duste on veggies
In casseroles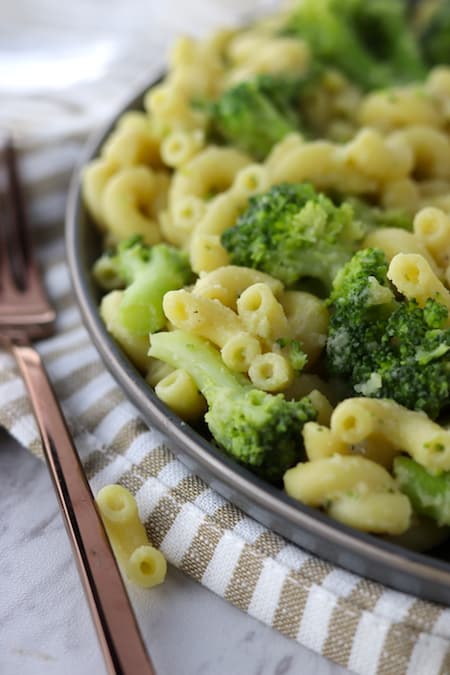 One of my favorite dishes to make with nutritional yeast is broccoli macaroni and "cheese". It's a vegan dish that even carnivores can't resist!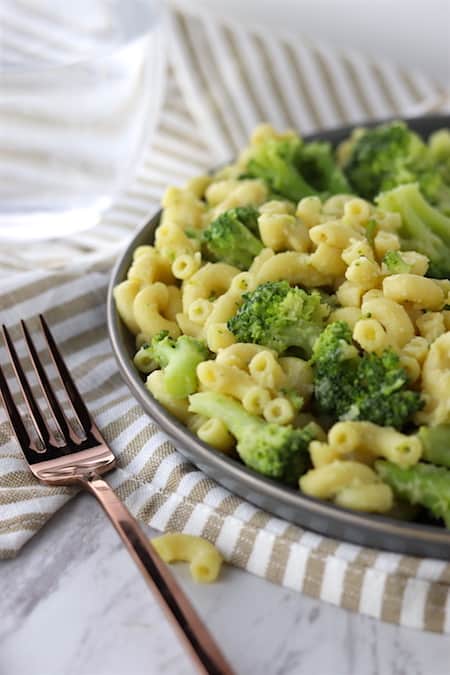 Nutritional Yeast + Vegan Broccoli Mac And "Cheese"
Prep time:
Cook time:
Total time:
This gooey, saucy, vegan broccoli macaroni and "cheese" is a dish both vegans and non vegans are sure to love! Plus there are only 7 ingredients and it's ready in only 15 minutes!
Ingredients
1 & ⅓ cup macaroni noodles, dry
1 & ⅓ cup riced cauliflower
¾ cup unsweetened almond milk
2 tsp garlic powder
1 tbsp onion powder
1 tbsp nutritional yeast
salt and pepper to taste
Instructions
In a large pot, boil water and cook macaroni according to package directions
Steam broccoli in a steam basket over the stove for ~8 minutes
Meanwhile, sauté cauliflower with ~1/3 cup water in a saucepan for ~3-5 minutes until soft
In a food processor combine riced cauliflower, milk, powders, nutritional yeast and salt and pepper. Process until smooth
Drain macaroni when cooked, and coat with "cheese" sauce. Add in broccoli.
Serve warm!
Notes
-You can also use frozen, microwaveable broccoli for even easier prep!
-Complete the dish with your favorite protein source
Nutrition Information
Calories:
213
Fat:
1.4
Carbohydrates:
40.5
Protein:
10.9
How have you used nutritional yeast before? What's you favorite way to use it? Let me know!
Happy Eating!
-Colleen
Not in the mood for mac at the moment? No worries, pin the recipe for later!